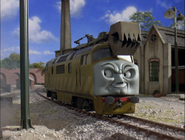 "Losing your sparkle, eh? What perfect timing!"
-Diesel 10
Diesel 10
is an evil diesel and the antagonist of Thomas And The Magic Railroad. He has a hydraulic claw that he calls
Pinchy
.
Bio
Diesel 10 had once been to Sodor, in which he found Lady, the engine that kept Sodor alive, and wanted to destroy her. He chased her, making use all her coal. She went too fast and ended up crashing. Her caretaker, Burnett Stone, hid her and tried to make her steam back to action again, but repeatedly failed.
Many years later, Diesel 10 returned, much to the surprise and horror of Thomas and Gordon. He antagonized Thomas and James at the sheds, and revealed his plans to destroy Lady. His two henchdiesels, Splatter and Dodge (called by Diesel 10 Splodge), also arrived to help him.
Diesel 10 dumped sneezing powder around the shed, and later that night demolished the scaffolding by a hole in the shed wall. It was here that he found out the Mr. Conductor, who had come to take care of the engines for Sir Topham Hatt during his vacation, was running out of gold dust, the special glitter-like substance that could make people travel to another place. Mr. Conductor shooed Diesel 10 off by threatening to pore sugar in his tank, which would "seize him up for good". Diesel 10 then rolled off, still threatening.
He later listened to Thomas and Percy discussing the Magic Railroad, before sneaking off to meet Splodge. Toby followed him, and rang his bell, causing D10 to demolish the shed they were under, thus trapping them. Once freed, he captured Mr. C and held him over the Big Dipper viaduct to get him to talk about the Magic Railroad. His plan failed, however, when Mr. Conductor cut a hydraulic pipe with his pliers, thus making Diesel 10 throw him up in the air. When he met Splodge the next time, he told them they were going to learn 'how to stop being stupid'. Unfortunately, he banged the coaling shoot with Pinchy, thus burying him in coal.
He later 'hijacked' Junior, Mr. C's cousin, when he landed on Diesel 10's roof. The two ended up in the smelters, and Junior fell onto James's roof. D10 then tried to back them into the smelting pit, but Junior brilliantly saved them from that fate with the last amount of gold dust.
Meanwhile, Lady had been brought back to steam, and arrived on Sodor with Thomas. Diesel 10 saw them, and determined to destroy her, he chased the two all the way to the Big Dipper. The bridge, which was collapsing, held for Lady and Thomas, but snapped under Diesel 10, who fell into a bridge filled with sludge.
Persona
Diesel 10 absolutely hates steam engines, and wants to destroy them. He taunts them with names like 'teapot' and 'puffball' and doesn't want them to do anything but rust in a scrapyard. All engines fear and respect him.
Basis
Diesel 10 is a BR Class 42 "Warship" with an added non-regulation hydraulic claw.
Livery
Diesel 10 is painted olive green with tan stripes.
Voice Actors
Keith Scott (original workprints only)
Neil Crone
Ginzō Matsuo (Japan)
Helmut Krauss (Germany)
Luis Alfonzo Padilla (Mexico)
Jesse Conde (Mexico)
Sander De Heer (The Netherlands)
Yoram Yosefsberg (Israel)
Trivia
According to The Real Lives of Thomas the Tank Engine, Diesel 10's hydraulic claw, Pinchy, is an illegal modification. Among other reasons, it makes him too tall for the British loading gauge.
In an original version of the Thomas and the Magic Railroad script, Diesel 10 was to have been a new engine to the island, and Pinchy was going to be concealed beneath Diesel 10's roof. These were kept in the book, Diesel 10 Means Trouble.
Diesel 10 has never been seen pulling any sort of rolling stock.
In Thomas and the Magic Railroad, Diesel 10 is only addressed as "Diesel" aside from his introductory scene and the scene where Mr. Conductor explains to Billy Twofeathers why he is going to Sodor.
It was widely speculated that Diesel 10's name may have derived from the fact that he was the tenth diesel introduced in the television series, but Britt Allcroft says the name just "popped into her mind".
In early concept art, Diesel 10 had his name painted on his side. In addition, his claw bucket was smaller, his arm was designed differently, and he had three brakepipes, whereas his final model only had one.
Gallery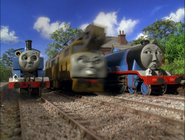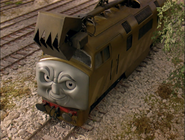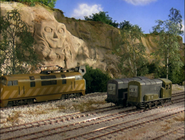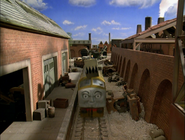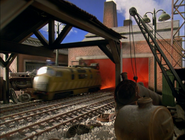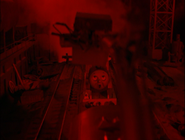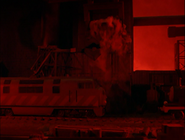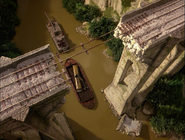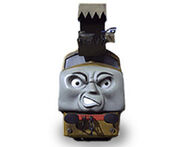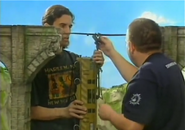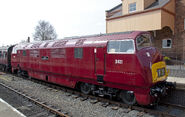 -With credit to the TTTE Wiki ( http://ttte.wikia.com )